Constrain your frame
Tuesday, March 28th, 2006 at 4:24 pm #
One of the things I can do with this blog is to show you some nice little features of xScope that you may not know by now. So here is my first take, hope you find it useful: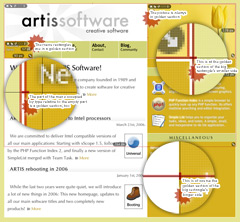 On the icon bar of every xScope frame you'll find the 'two dots' icon. Clicking on this will open a menu to constrain the frame to a certain aspect ratio. New in version 1.5 not only the sides are constrained to the set ratio, but also the sides itself are split by the set ratio with tiny tick marks.
This comes in handy especially with the 'golden section': It was used by the ancient greeks heavily, and therefore again in Renaissance. It always pleases the eye. I like to use the golden section to fake design skills. Take a look at this picture to see how I used this feature on the new website. There are plenty of golden sections.
Now take out your xScope and find all the golden sections here!