Screen Loupe is a desktop utility that displays a magnified view of whatever is underneath your mouse cursor.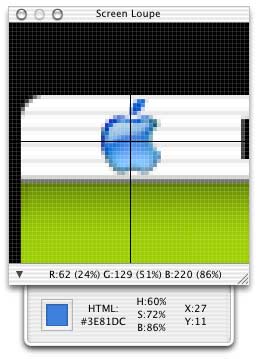 - magnifications: 2x, 4x, and 8x
- option to move away when under the mouse cursor
- soft gridlines for better visual distinction of pixels
- crosshair with color value at the mouse cursor
- copy HTML color value for pasting in text editor
- drawer with color in HTML, HSB, and mouse position
- lock position & freeze display to observe an area of interest
Latest version: 1.4 from October 30th, 2006.
Runs on Mac OS X 10.5 Leopard.